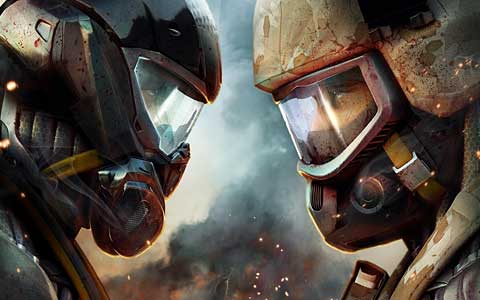 Which Giant Will Come Out Victorious of This File Sharing Shoot-Out?
qBittorrent and uTorrent are popular software clients for peer-to-peer file sharing in the BitTorrent network. We test both free Windows versions to find a clear winner.
In the left corner, qBittorrent v.3.3.7, an open source application with brothers for Mac and Linux. It fights in 37 languages and comes free of ads and nags. Installation is easy.
In the right corner, µTorrent 3.4.8, also for Mac OS, Android, and Linux server. Before it gets ready to rumble, it offers you to download a BitTorrent bundle, no additional software.
µTorrent comes in 67 languages. If you want no banners attached to your warrior, consider purchasing µTorrent Ad-free for $4.95/year, for Windows. Or go for µTorrent Pro↓
Both programs look like siblings: a status and category list in the left pane, current torrent jobs and their key indicators in the upper right pane, tabs with details like trackers and peers in the bottom pane.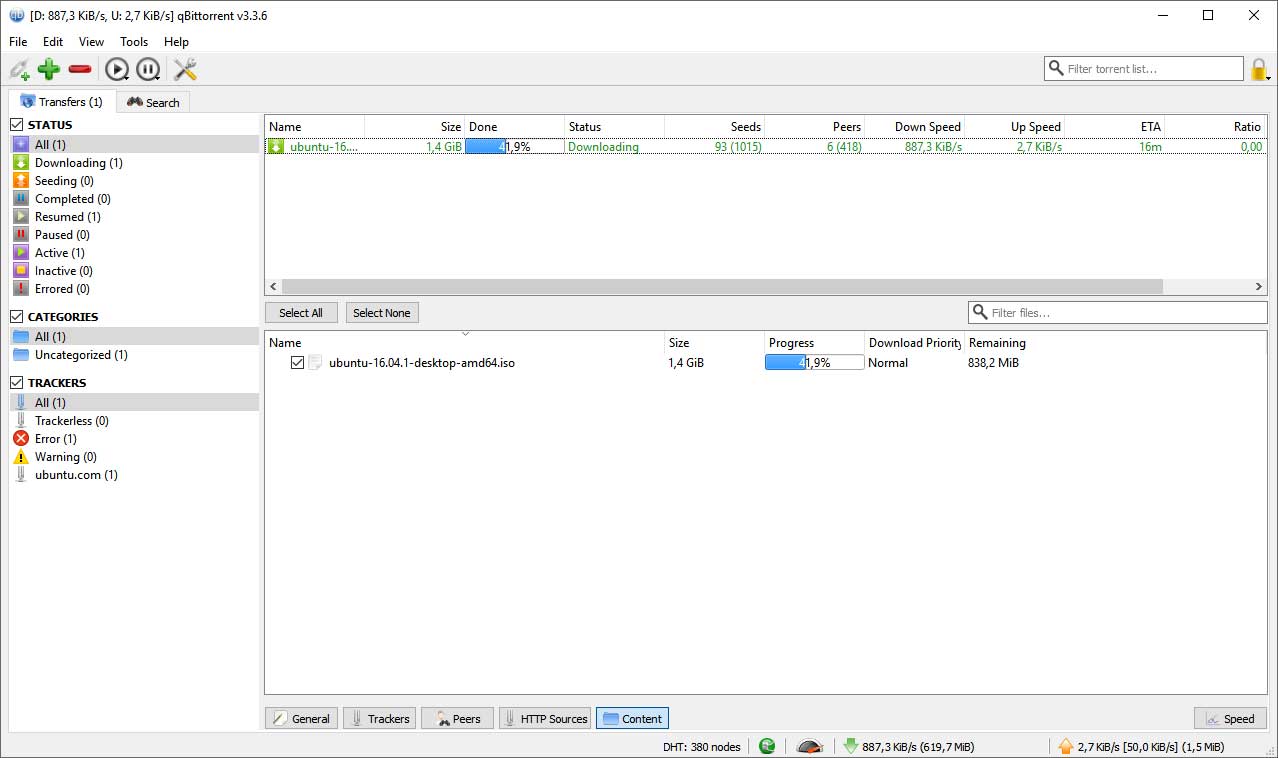 Both programs have good usability. Thanks to the clear layout, managing the download queue is easy. If questions arise: µTorrent has the better documentation.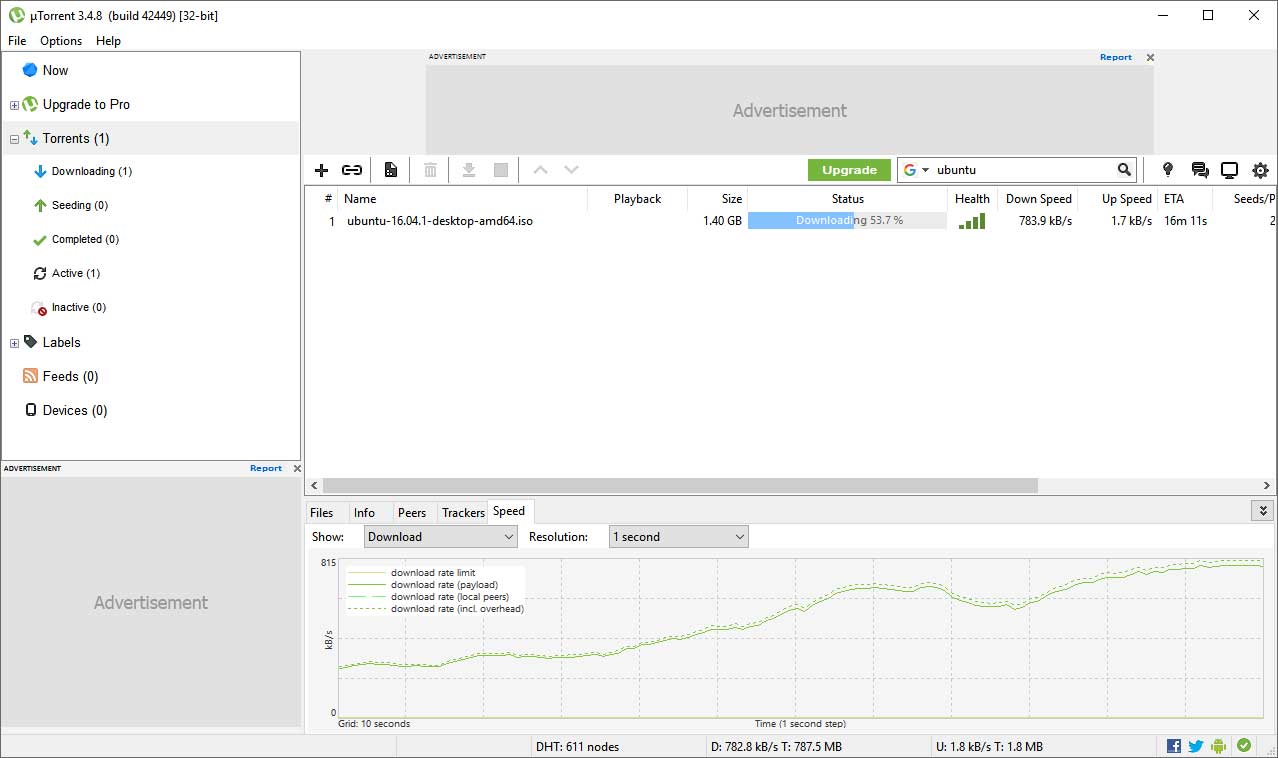 qBittorrent is lighter. The program used 0.4% CPU capacity for a typical download. For the same task, µTorrent consumed 2.1% of processor capacity.
I downloaded a large file, the Ubuntu OS. qBittorrent finished the job 2.4% faster than µTorrent. It took qBittorrent 496 s, µTorrent 508 s.
The higher weight does hardly harm µTorrent's download speed. (If a torrent has fewer seeders, downloads are generally slower.)
µTorrent shows download rates in kB/s in a graph in the Speed tab in the bottom pane – a better solution than qBittorrent's numeric display.
µTorrent automatically adjusts its bandwidth usage so that it does not disturb other online activies, for example, movie streaming or gaming.
Both contestants:
Let you preselect files, meaning that you will not need to download all files in a torrent descriptor file
Offer priority for individual items in the download list; files marked important will be available sooner
Have tools for creating new torrents and can be used in conjunction with a proxy server
Can be remotely and securely controlled via HTTPS, µTorrent also from mobiles via Android app
Will automatically download torrents via RSS from your favorite torrent site
µTorrent lets you configure a boss key and offers a scheduler. qBittorrent has no such features. However, it can inform you via email when a download is complete.
Conclusion
qBittorrent wins. It's faster, uses less resources, has more and better search features, and is ad-free. µTorrent is a close second. It can be used on mobile devices, its speed graph measures the data transfer rate, it has more features overall. With a better search, it would've won the contest.
qBittorrent vs µTorrent – TorGuard's app applies settings to popular P2P clients including Deluge, Vuze, and uTorrent with a single click. Another popular BitTorrents client is Transmission. I give qBittorrent a 4/5 stars and µTorrent a 3/5 stars rating.
---
---
Search Features
For me, it's important to find files to download fast. I dislike it to leave a program for the search results.
qBittorrent searches in 11 torrent sites at a time and displays the results in the Search tab. It offers category-specific search, for example, only movies.
More sites to be searched can be added via plugins. I had to install the programing language Python in Windows before I could use the search.
µTorrent searches in 1 engine at a time and displays the results in the web browser. No category-specific search. Only 2 search engines are preconfigured.
If you want my list with 5 popular torrent sites of 2016, along with a quick guide on how to install and use it to enhance the search in µTorrent, fill in your email address:
---
Anonymity Settings for qBittorrent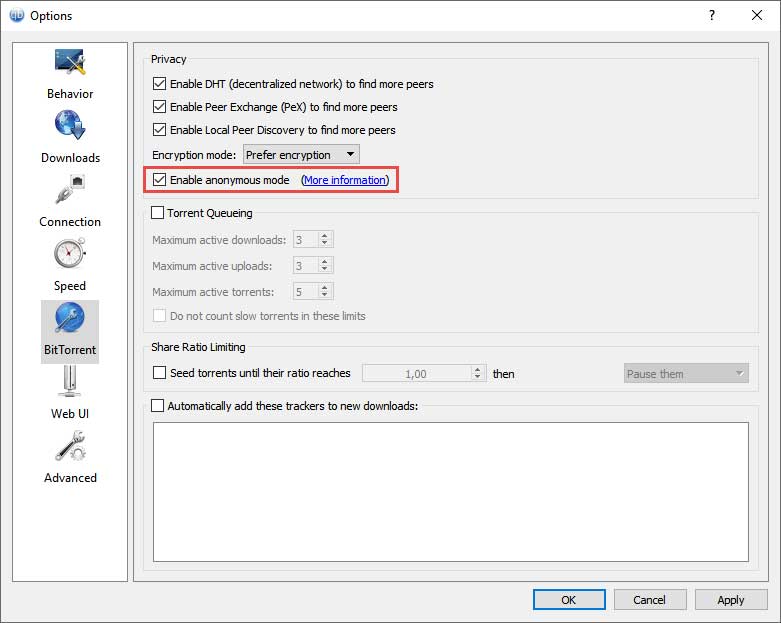 In Options|BitTorrent: Checkmark 'Enable anonymous mode'. This adds an extra layer of anonymity / security to your connection. Enable it with proxy or VPN connections.
Checking this box doesn't mean your IP address is hidden in the torrent network. It will still be visible in the Execution Log (View|Execution Log).
In order to conceal your IP – which is crucial when torrenting to avoid legal actions – you'll also need a proxy server or a VPN.
So what exactly does the anonymous mode do? It will reset the user agent to an empty string and incoming connections will only be accepted through a SOCKS5 or I2P proxy.
---
Proxy Settings for qBittorrent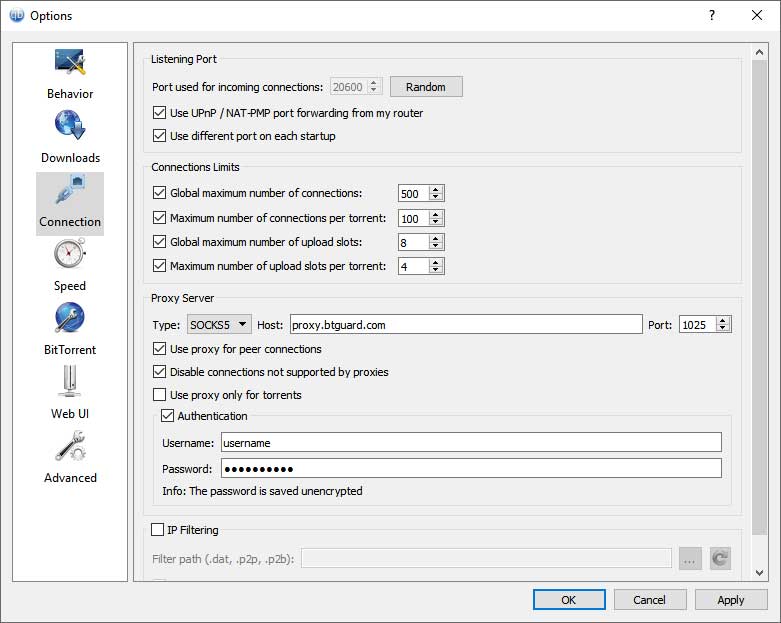 When qBittorrent is configured correctly, your ISP and legal authorities cannot identify you while you are torrenting.
In Options|Connection: Checkmark 'Use different port on each startup'. Copy the settings from the screenshot. For this to work, you'll need a BitTorrent proxy.
I recommend using BTGuard. Read my review
Enable 'Use proxy for peer connections'.
For high security checkmark 'Disable connections not supported by proxies' and leave 'Use proxy only for torrents' unchecked.
The proxy password is saved unencrypted.
In the Execution Log (View|Execution Log): Examine that your IP address is hidden. Look for the entry 'External IP'.
It should be one of the BT Guard IPs: 37.48.64.xxx, 37.48.86.xxx, 46.166.191.xxx, 63.142.161.xxx, 85.17.73.xxx
See it? Then you're fine.
Tip: In Options|Advanced: Checkmarking 'Exchange trackers with other peers' and 'Always announce to all trackers' will improve the app's performance.
---
µTorrent Pro Features
With instant play back, you can start streaming a video or music file while it is still downloading.
The Pro version also includes a media player with HD codecs and protection against malware attacks.
It lets you convert files from within the application to play on other devices like iPhones and gaming consoles.
The Pro version does not display advertisements.
For me, the extras are not worth $19.95/year. Maybe $14.95, sure $9.95. I'd put the rest in a VPN or proxy
---
Links
---
µTorrent was once a lightweight app. It carries more weight these days, still crosses the line fast
---
King in the ring
App for P2P filesharing
Quick to connect. Files load fast. Point-to point connections do not clog the computer network. Open source tech. Well-arranged interface. Best client for the BitTorrent protocol.
Date published: 08/24/2016
---
Lesson learned
Software for file sharers
Older versions came bundled with malware. The tested version is clean. It lets users stream or playback a torrent file inside the program. Users can ditch the ads for $5.
Date published: 08/24/2016
---
Was this comparism helpful? Your opinion
Last updated: